IXP42x based
¡¡

ALCYONE
¡¡

PAPILLON(New!)
¡¡

CAPELLA
(New!)
¡¡ StarEast
¡¡

SE-BB / SE-MP
¡¡FIDS42 Series
¡¡

FIDS42MM1
¡¡

FIDS42MS1

IXP12xx based
¡¡

FIDS1200S System

IXP24xx based
¡¡

FIDS24MM1
¡¡

FIDS24MC1

IXP23xx based
¡¡

FIDS23MC1


PXA27x based
¡¡

Hua Mountain


Home > Products > IXP24xx based
Product Overview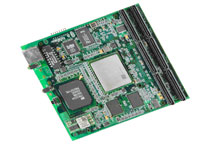 FIDS24MM1 PMC card is a high-performance processing element that utilizes Intel® IXP2400 network processor which is a low power and high performance XScale CPU. The FIDS24MM1 offers OEMs a standard module to easily customize and upgrade designs and reduce time to market. With carrier board, it can be used in broadband access and edge service markets such as broadband access (Intelligent DSLAM), metro routers, edge service and 2.5/3G wireless (CDMA2000 or WCDMA system), security (IDS, Firewall).

Product Highlights
¡ñ Accelerates time-to-market of broadband products based on IXP2400, TCAM
¡ñ Self-defined PMC card
¡ñ FIDS SDK 2.0 include:
1. BSP/ Drivers for RT Linux and VxWorks
2. Reference design.
3. Documents of system structure/ software structure/ interface spec.
¡ñ Hardware, software, document and tools form a total platform. Hardware, software, document and tools form a total platform.
Flexcomm FIDS24MM1 Board

The FIDS24MM1 Network Processor Card includes a 600 MHz IXP2400 network processor with SPI3 traffic bus and a memory subsystem consisting of 16 Mbytes of flash memory (up to 32M), 8 Mbytes of QDR SRAM, and 256 Mbytes of DDR DRAM (up to 512M). Other components include a 9MB TCAM, an Intel 82559 Fast Ethernet chip.

FIDS24MC1 SDK

BSP/ Drivers for LINUX and VxWorks
Some building blocks from Intel:
1. Queue management
2. Transmit scheduling
3. Interface to the TCP/IP stack on the Intel XScale core.

Physical Description
| | |
| --- | --- |
| Description | Specification |
| Physical Dimensions | 149mm * 74mm |
| Power | 35 Watts (max.) |
| Operating Tem | 0¡ã to 50¡ã C |
| Storage Tem | -20¡ã to 60¡ã C |
Features and Benefits

Features
Benefits
FIDS24MC1 - Network Processor Card
Intel IXP2400 network processor
A flexible and intelligent network processor
Memory subsystem - 256 MB DDR DRAM (up to 512Mb), 8 MB QDR SRAM, 9Mb TCAM

Fast table-lookup support
16 MB FLASH (up to 32MB)

Hardware platform to meet various requirement
Intel 82559 Fast Ethernet Multifunctional PCI Bus Controller

Communication with the Intel®IXP2400 network processor for hardware debug capability, speeds test code downloading
SRAM connector

FIDS24MC1 SDK 1.0
Software libraries and micro-code macros

Accelerated software development to speed time-to-market, efficient using of control stores
Sample applications code, boot code, and
Diagnostics function

Device drivers

BSP for VxWorks, Linux
Block Diagram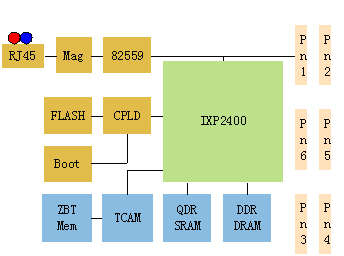 Pn definition:
Pn1: SlowPort and part of PCI interface
Pn 2: part of PCI interface and 3.3V power
Pn 3/ Pn 4: MFS(TX)
Pn 5/ Pn 6: MFS£¨RX£©


View PDF

Contact Information:


www.flexcomm.com.cn
For technical support, please contract our support at support@flexcomm.com.cn
For business issues, please contact our sales at sales@flexcomm.com.cn.
Tel: +86-21-54109960 ext. 350
Fax: +86-21-54109876
12F, Xu Hui Yuan Buiding, No.1089 Zhongshan No.2 Road(S), Shanghai, China