IXP42x based
¡¡

ALCYONE
¡¡

PAPILLON(New!)
¡¡

CAPELLA
(New!)
¡¡ StarEast
¡¡

SE-BB / SE-MP
¡¡FIDS42 Series
¡¡

FIDS42MM1
¡¡

FIDS42MS1

IXP12xx based
¡¡

FIDS1200S System

IXP24xx based
¡¡

FIDS24MM1
¡¡

FIDS24MC1

IXP23xx based
¡¡

FIDS23MC1


PXA27x based
¡¡

Hua Mountain


Home > Products > IXP24xx based
FIDS24MC1 System
Compact PCI 2.16 board for Firewall / IDS / Network Monitor / Load Balance etc.


View PDF
Product Overview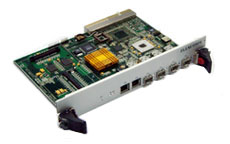 Next-generation multi-service network products must meet the growing user demand for the integrated solution of packet filter, content inspection and state-checking techniques. In addition to implementing pivotal technologies, such as multi-layer filter and content detection at wire speed, equipment manufacturers must deliver their products that can be easily upgraded in software under stringent time-to-market deadline. This capability is important because it can facilitate the cost-effective deployment of new services without extensive hardware replacement.
Based on Intel IXP2400 network processor, FIDS24MC1 meets these requirements richly. Intel's network processor delivers high-performance and flexibility to value-add services because of its powerful parallel and programmable multi micro-engines. In conjunction with FIDS24MC1 SDK, FIDS24MC1 can dramatically meet the requirements of next generation Firewall, IDS, Network monitoring, Load balance, Content filter, Traffic statistics/ accounting, Protocol analysis etc..

Product Highlights
¡ñ Accelerates time-to-market of broadband products based on IXP2400, IXF1104, TCAM
¡ñ Platform FIDS24MC1 is a 6U cPCI card
¡ñ FIDS SDK 2.0 include:
1. BSP/ Drivers for VxWorks
2. Reference design.
3. Documents of system structure/ software structure/ interface spec.
¡ñ Hardware, software, document and tools form a total platform.

Flexcomm FIDS24MC1 HW System
The FIDS24MC1 Network Processor Card occupies a 6U slots within the cPCI system. It includes a 600 MHz IXP2400 network processor with SPI3 traffic bus and a memory subsystem consisting of 16 Mbytes of flash memory (up to 32M), 4 Mbytes of QDR SRAM, and 512 Mbytes of DDR DRAM. Other components include a 4.5Mb TCAM, an Intel 21555 Non- Transparent PCI-to-PCI bridge chip, and an Intel 82559 Fast Ethernet chip.
The front-panel features:
¡ñ Four Gigabit Ethernet connectors
¡ñ One 10/100 RJ-45 Ethernet connector for the PCI/Ethernet interface
¡ñ One RJ45 serial port connector
¡ñ One recessed master reset switch
¡ñ Green/Red - Pass/Fail indicator LEDs for GE port
The board features:
¡ñ Power connector for standalone application without cPCI interface used.
¡ñ The interface to the cPCI back-plane is via one standard cPCI connectors J1 providing a standard 32-bit bus at speeds 33 MHz.

FIDS24MC1 SDK

¡ñ BSP/ Drivers for VxWorks
¡ñ PV4 L3 Forward reference design
¡ñ Some building blocks from Intel:
1. Queue management
2. Transmit scheduling
3. Interface to the TCP/IP stack on the Intel XScale core.

Physical Description
| | |
| --- | --- |
| Description | Specification |
| Power | 35 Watts (max.) |
| Operating Tem | 0¡ã to 50¡ã C |
| Storage Tem | -20¡ã to 60¡ã C |
Block Diagram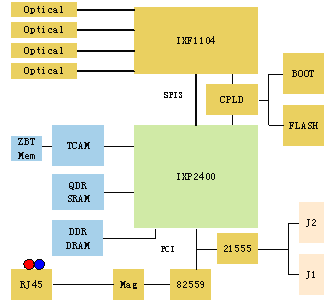 Features and Benefits

Features
Benefits
FIDS24MC1 - Network Processor Card
Intel IXP2400 network processor
A flexible and intelligent network processor
Memory subsystem - 512MB DDR DRAM, 4 MB QDR SRAM, 4.5Mb TCAM

Fast table-lookup support
16 MB FLASH (up to 32MB)

Hardware platform to meet various requirement
Intel 21555 Non-Transparent PCI-to-PCI Bridge

Enables connection to an embedded cPCI controller board
Intel 82559 Fast Ethernet Multifunctional PCI Bus Controller

Communication with the Intel®IXP2400 network processor for hardware debug capability, speeds test code downloading
SRAM connector

FIDS24MC1 SDK 1.0
Software libraries and micro-code macros

Accelerated software development to speed time-to-market, efficient using of control stores
Sample applications code, boot code, and
Diagnostics function

Device drivers

BSP for VxWorks
Benchmarking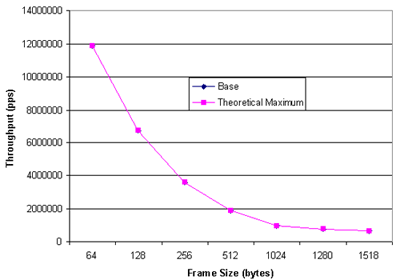 View PDF

Contact Information:


www.flexcomm.com.cn
For technical support, please contract our support at support@flexcomm.com.cn
For business issues, please contact our sales at sales@flexcomm.com.cn.
Tel: +86-21-54109960 ext. 350
Fax: +86-21-54109876
12F, Xu Hui Yuan Buiding, No.1089 Zhongshan No.2 Road(S), Shanghai, China