Flexcomm Added Another Stunning Product Portfolio Based on Intel® IXP23xx Product Line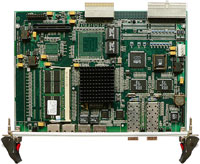 Flexcomm Technology Announces Reference Platform for Intel® IXP2350 Network Processor
MINTAKA is a low-cost, 2 Giga PICMG2.16 board for SOHO Router/ Firewall / IDS
Shanghai ĘC May 27th, 2005, Flexcomm Technology Ltd., an Intel XScale® Technology-based solution provider company, is now an Affiliate Member of the Intel® Communications Alliance. In conjunction with this announcement, Flexcomm Technology Ltd., a leading provider of reference platforms and complete custom product solutions based on Intel® network processors, officially announced the availability of their new MINTAKA reference platform which is based on Intel® IXP2350 network processor.
MINTAKA used Intel® IXP2350 network processor, which provides a powerful, integrated control plane processor in the same chip. The high-speed core (up to 1.2 GHz) incorporates advanced I/O and memory features, enabling customers to eliminate an external control plane processor in many applications. Its store-and-forward architecture combines an enhanced high performance Intel XScale® core, four 32-bit independent multithreaded microengines, hardware-based cryptography acceleration, and a 256 HDLC channel controller to deliver up to 4.9 giga-operations per second.
"Flexcomm has more than 2 years application knowledge on Intel® IXP2XXX platform. The Intel® IXP2350 network processor platform solution from Flexcomm enables customers to build Enterprise firewalls and access solutions that require fast packet forwarding tasks." said SK Yip, Director of Intel Infrastructure Processor Division, Asia. "The system level solution demonstrated in these platforms help our customers to bring their products to market faster." SK Yip added.
Flexcomm started delivering MINTAKA since March 2005 at a reasonable price with general technical support. The MINTAKA platform based on the Intel® IXP2350 network processor is a low-cost, 2 Giga PICMG2.16 board for SOHO Router/ Firewall / IDS applications. Flexcomm, with many years of experience and expertise with Intel XScale® network processor series- based hardware design and micro-code development, offers customers a powerful mid-range platform, lower cost/performance points for access edge applications.

The MINTAKA platform includes
- An Intel® IXP2350 network processor at 900 MHz
- 512M CPP DDR RAM with ECC (expandable to 2GB)
- 256M XSI DDR RAM with ECC (expandable to 1GB)
- 8 MB QDR SRAM (expandable to 16M)
- 16 MB of Intel StrataFlash® and 128MB DOC (optional)
- Two on-board Gigabit Ethernet ports and can be switch to cPCI2.16 J3 backplane, two 10/100 Fast Ethernet
- port
- Support PCI 64-bit 66 MHz through cPCI2.16 J1/2
- One Media Interface slot to accommodate media interface cards including OC3, OC12, T1/EI, Gigabit
- Ethernet, and others.
- A card slot to accommodate TCAM daughter cards

MINTAKA can also be used in stand-alone mode with ATX power supply.
The price information for MINTAKA can be obtained via below contact points. Flexcomm will provide support for customer special requirement or specification. For customization, it will subject to volume and pricing.
For other quantity or need further information, please contact
Technical Support: support@flexcomm.com.cn
Sales Inquiry: sales@flexcomm.com.cn
About Flexcomm Technology Ltd.
Flexcomm Technology Ltd is a fast growing provider of reference platforms, platform derivatives, and complete custom product solutions based on Intel® network processors and Intel XScale® technology. Founded in 2004, Flexcomm Technology, from a hardware provider is gearing up into full design and production manufacturing services enabling customers get their Intel-based products to market quickly and with low risk. For the past few years, Flexcomm has ventured into reference platforms base on Intel XScale® network processor products such as IXP12xx product line, IXP23xx product line, IXP24xx product line, IXP28xx product line and IXP42x product line. Flexcomm focus on reference platforms for Home Networking, Muti-media Gateway, Wireless Media Gateway, VoIP etc base on Intel® IXP42x network processors. Flexcomm has started shipping StarEast, a stackable system where the baseboard is based on an Intel® IXP425 network processor. Headquartered in Shanghai, China, Flexcomm Technology is a member of Dragon Communication & Technology Group. For more information about Flexcomm Technology, please visit http://www.flexcomm.com.cn or call (+86)-021-5410-9892 or fax to (+86)-021-5410-9876.
Flexcomm Technology Ltd. is an Affiliate Member of the Intel® Communications Alliance, a community of communications and embedded developers and solution providers. For more information, please visit www.intel.com/go/ica.
Intel, Intel XScale and Intel StrataFlash are registered trademarks of Intel Corporation or its subsidiaries in the United States and other countries